Buy It Now or Buy Now
The module allows you to track all changes at Copart and IAAI auctions in the "Buy It Now" section, in other words - buy for a fixed price and not participate in the auction. It happens that after the "failed" sale, the lot is put up for Buy It Now and you can buy it without auction at a better price than it was at the auction. Our module will help you not to miss the most interesting offers.
The undeniable advantage of this module is that it fully automatically tracks price changes and new lots.
Short list of benefits:
Flexible filtering (cost, type of seller, type of vehicle, year of production, make, model);
Subscription to automatic notifications of price changes and new lots on Email and Telegram;
View all photos in HD immediately on the search page;
You can see the old price before its change, if it was there;
Quick review of the lot sales history;
Highlighting of new lots, which you didn't see;
Show who is selling the lot Insurance or

third party seller

;
Sort by Price, Auction Date or Lot Update Date;
Quick link to the Auction page.
Module illustration Buy It Now: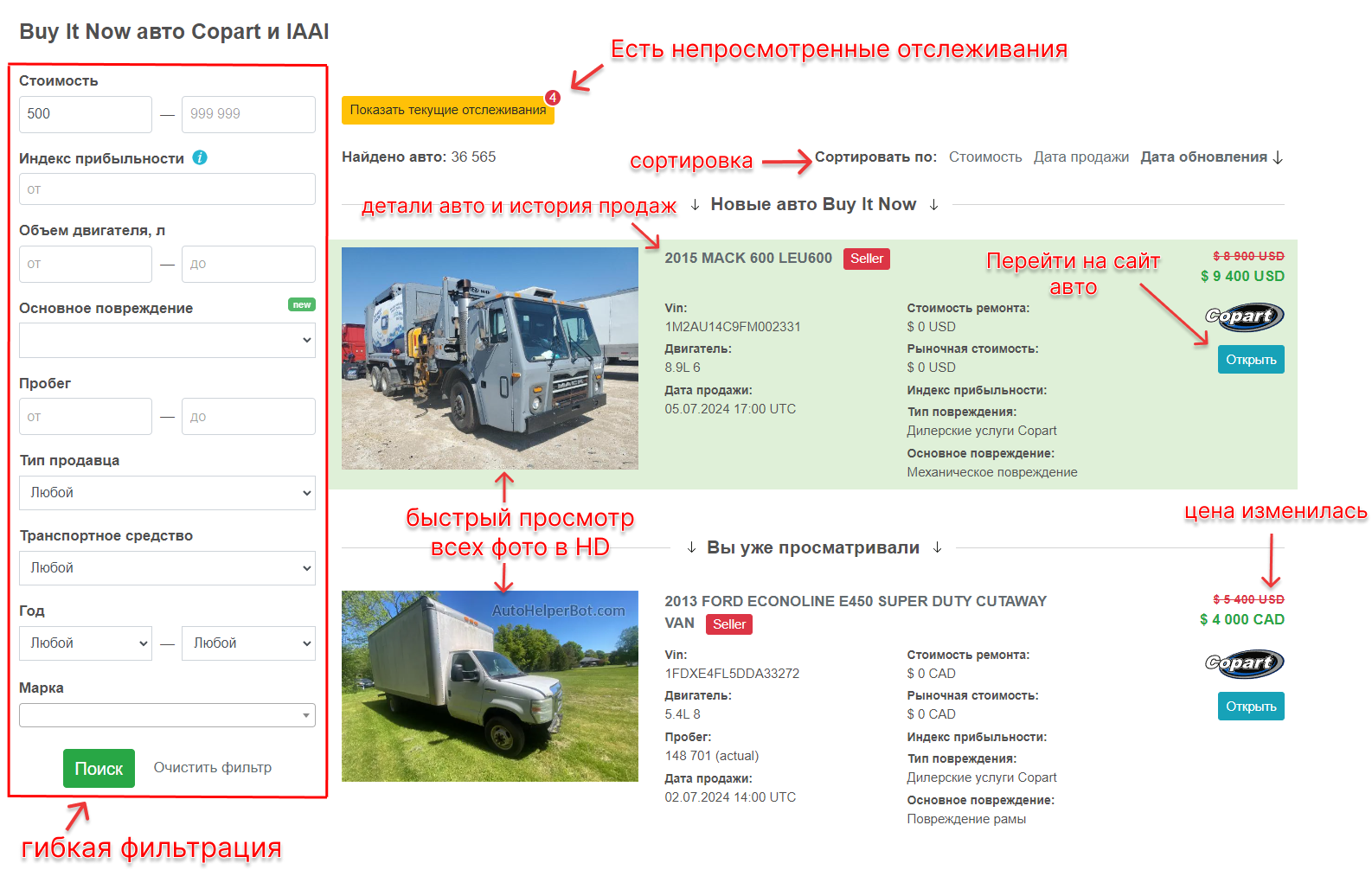 The module works on the principle of lot search with a subscription to changes in this search.
Let's look at an example: You want to buy and track not all cars that you can buy on Buy It Now, but only fresh VW Jetta from 2019 and newer, we select these criteria in the filter and sign up for tracking:

Now you will receive any changes in the Price or appearance of New lots in Email or Telegram according to the selected criteria. An example of notification in Telegram:

After switching you will see the Buy It Now lots search page where changes will be highlighted in green background as shown in the first screenshot.
You can add any number of tracks, as well as manage already added with a quick switch to these lists:

Important! If you received a notification about changes in the Buy It Now list and did not view them, you will not be notified again! The list of unscreened lots (green ones) will increase, but there will be no new notification until you view the list of lots in this list. This is done in order to prevent excessive number of notifications (flood). All this works individually for each list.
Notification of new changes has arrived, we have reviewed them and are waiting for new notifications. If you have not viewed them, you will not be notified again and again, you will see all the changes since your last visit to this tracking list by clicking on the link from the last notification.

P.S. If you still have questions or suggestions - write to us in a chat in the right corner of the screen.
Have a nice use and great shopping!
The AutoHelperBot team.